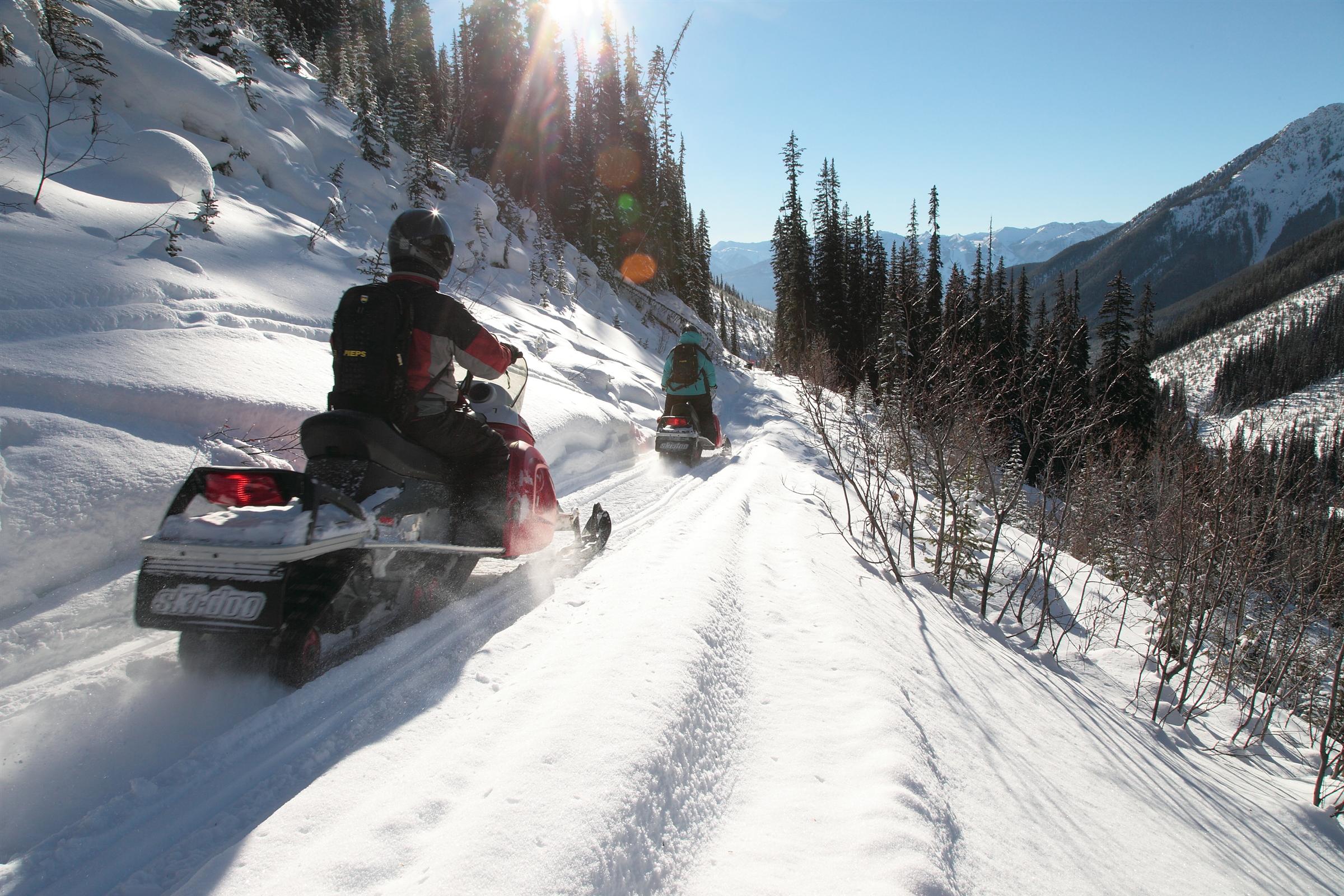 Let us guide your Canadian Rockies adventure!
Come snowmobiling in Golden BC and join us for a family friendly tour of the spectacular Rocky Mountains, or take it to the next level on our Private Ultimate Full Day Tour sledding excursion!
Try Our Brand New Machines
We have a brand new fleet of eco-friendly, 4-stroke , 600cc Ski-Doo Grand Touring Sport snowmobiles! They're not only flashy to look at, these sleds also offer some great improvements over the alternative 2-stroke snowmobiles. Added benefits are things like better fuel efficiency, less emissions, more wind protection, and the quieter  "SilenTrak". A longer track is nice, too! It helps smooth out bumps on the trail and makes for a super comfortable snowmobile ride. As a passenger, you'll also enjoy ultimate comfort with heated hand-grips and a padded back-rest. With this very comfy, lightweight and also simple to handle machine, you will just love the difference these new ski-doos make!
A Snowmobile Tour for Everyone
Choose Your Sledding Adventure!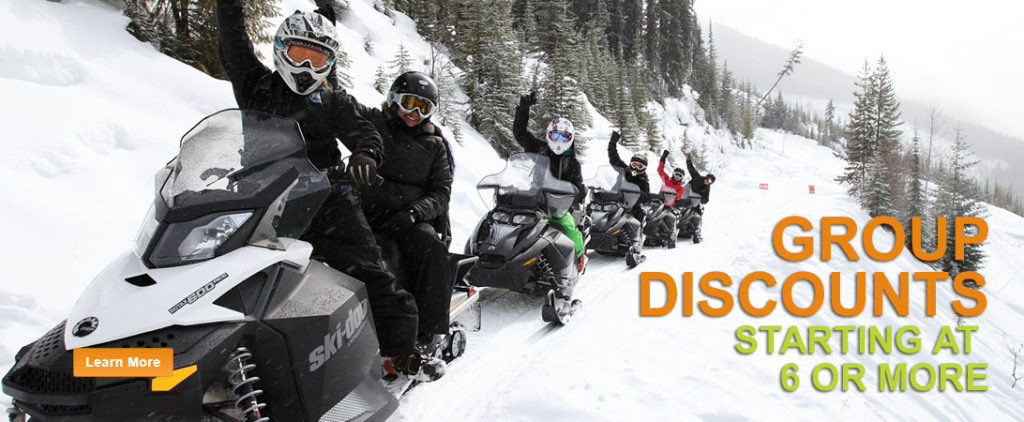 We offer different types of our snowmobile tour packages, so you're guaranteed to find an adventure that suits your style!
What to Expect on Your Snowmobile Tour
We make it easy for you. White n' Wild snowmobile tours provide the essentials for your safety and comfort:
Full Day Tours include convenient shuttle service from Banff, Canmore and Lake Louise & Field to our base in Golden,BC
Winter gear, including snowsuits, boots, and helmets. [wear what you have-skiwear, warm layers, goggles, gloves]
Comfortable, well-maintained, and brand new 600cc snowmobiles with heated hand-grips and easy-to-use controls
Highly experienced, professional, and qualified guides
Delicious snacks and drinks provided, with a mountainside lunch on Full Day, Ultimate Full Day and Express tours
White N Wild snowmobile tours provide new eco-friendly 4-Stroke 600cc Skidoos with the following features:
Heated handle bars
Simple gas and brake levers—no gears to shift!
600cc or 900cc engines
Experience the Canadian Rockies: thrilling sweeps of snow, ice, and sky. The views will take your breath away, and the experience will create memories to last a lifetime!
Answers to frequently asked questions:
Prices include an equipment damage fee, which offsets damage up to $250 CDN.
Minimum driving age is 16 years and older, ability dependent-driver's licence required.
Minimum age is 5 years or older to participate in any of our snowmobile tours.
White N Wild has a 72 hr cancellation policy.
For reservations  that are phoned or e-mailed in  we require a major credit card (Visa, Mastercard, American Express). There is no charge until a few days prior to your tour, unless you cancel  within the stated cancellation window.
For reservations made online, payment is taken immediately and in the case of a cancellation,  a small cancellation fee will apply.
All guests must sign a waiver before participating in any tour.
All listed prices include $250 CDN insurance coverage and necessary gear. Complimentary shuttle service with Ultimate Full Day, Full Day or Express tours!
Please note, all participants must sign a waiver before departing for any snowmobiling tour.