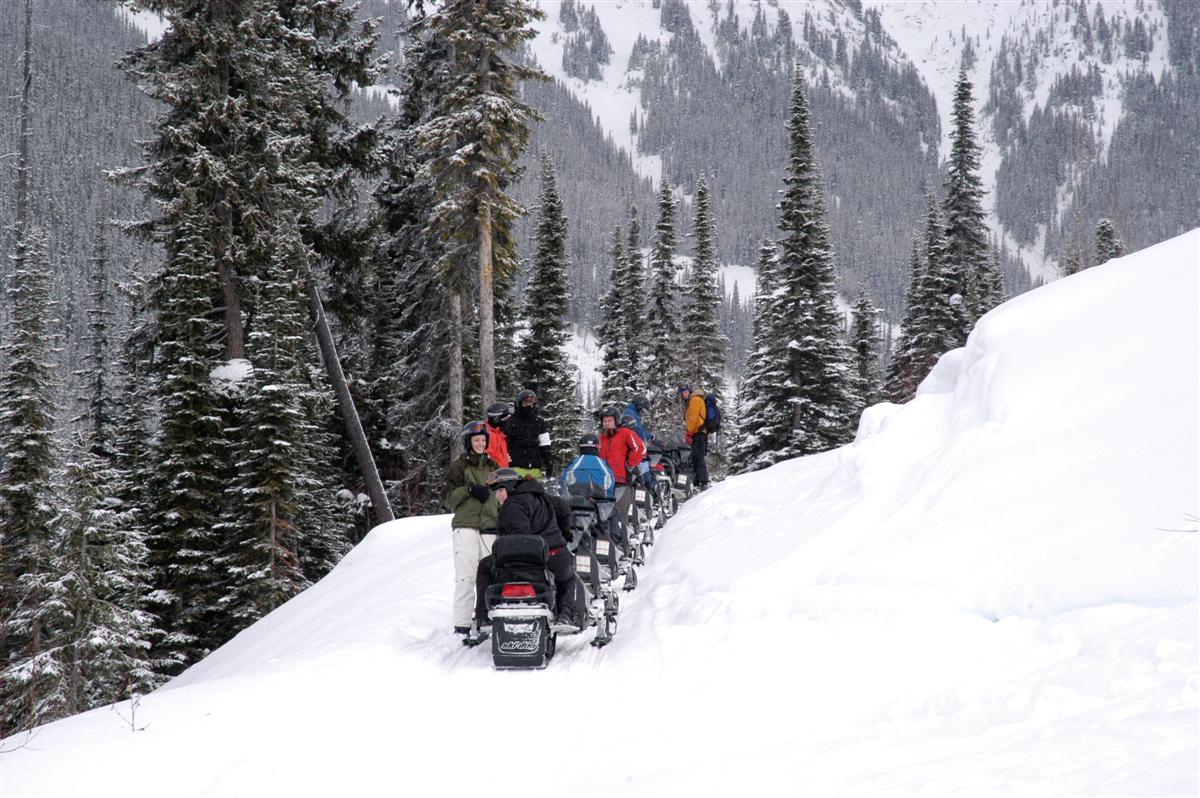 7 Snowmobile Tour Hand Signals You Must Know
Gone are the days when snowmobiles were only used as winter utility vehicles,.. Snowmobiling now is a favorite winter outdoor activity and a booming recreational sport. In Canada, snowmobiling has become a very popular form of recreation, anticipated by many as the first snow flies each year. Even people from afar have been allured to come and experience snowmobiling in the unique and pristine Rocky Mountains.
Golden Snowmobile Tours
If you're looking for a fun activity this winter season, try a snowmobile tour in Golden BC brought to you by White N' Wild Adventures. With six different snowmobile adventure packages to choose from, you're sure to find a tour that suit the type of snowmobiling fun you, your friends, or your family is looking for.
On each of the tours, friendly and knowledgeable guides will be present to ensure your safety and utmost enjoyment all throughout your snowmobile tour. All winter gear you'll need for the ride will be provided but feel free to wear your own. At the start of each tour, your guides will be checking if you're wearing proper riding apparel. This is very important to ensure overall comfort and safety for your whole day as well. Your guides will be with you from start to finish, guiding you along various trails as you bask in all the fun and witness the scenic views of the Canadian Rockies that can only be offered during a snowmobile tour in Golden BC.
Why do guides use hand signals?
During your snowmobile tour, it is very important that you follow your guides. Their very purpose is to (as what they are labeled for) guide you safely along the right trail routes, resulting to a fun and adventurous experience. Guiding you effectively will require communication. But since snowmobiling is kind of like scuba diving in a sense that you and your guide are in an environment wherein verbal communication won't definitely work, relying on hand signals is crucial.
Here is what your guides are trying to tell you with the following hand motions. Don't worry. These are very simple and easy to remember.
Slowing
When you see your guide extend his arm outside and downward with his/her hand flapping that only means one thing: it's time for you to slow down.
Right Turn
When you see your guide lifting up his left arm at right angle with his hand on high and palm flat, then it's time for you to turn right.
Left Turn
When you see your guide lift his/her left arm pointing to the left direction, then that's a left turn.
Oncoming Sleds
When you see your guide raise up his/her left arm, elbows bent inside and over his/her head, and with the forearm moving in an in and out direction pointing to the right, then that means sleds are on coming and you have to make sure you're on the right trail.
Sleds Following
When you see your guide lifting his/her left arm moving in a hitch hicking motion, he/she is informing you that there are sleds behind you. If you see some fingers numbered then that's how many sleds are behind you.
Stop
When your guide extends either of his/her arm up in the air with palms flat, that means stop. It might be a time for a little break, picture taking or to really end the tour.
Last Sled in Line
When you see your guide raise his/her left arm at an angle, elbows bent inside, fist clenched, and forearm moving repeatedly up and down, then that means you're the last sled in your group.
Easy, right?
Very easy to remember right? Familiarize yourself with these hand signals and you'll never ride on the wrong track, speed up on areas where you're supposed to be slowing down and turn in the wrong direction. But most importantly, you'll have a safe and much more fun snowmobiling adventure. Enjoy but be safe!
Book Your Tour with White N' Wild
About Golden as a Snowmobiling Destination
One of the best destinations for snowmobiling is in Golden, British Columbia. It lies in between two majestic Columbian mountain ranges— the Selkirk and Purcell mountains. It is also at the junction of two famous heritage rivers— the Columbia River and the Kicking Horse River. Golden is also at close distance to 6 stunning national parks in Canada, namely Banff, Glacier, Jasper, Kootenay, Mount Revelstoke and Yoho, making it a very accessible base destination for many outdoor adventures. If you're in Banff, Golden should be your first choice for a snowmobile tour since it's the nearest snowmobiling area you can go to (motorized sports are not allowed in the Parks). Golden's geographical location has made snowmobile tours in Golden BC not just accessible, but much more – a must-see and must-try activity for any outdoor adventure enthusiast.
It is a must-see because it is a place where the natural beauty of the Canadian Rockies are at full display, especially when snowmobiling on trail routes going up to elevations of thousands of feet high. It is a must-try because Golden is a very friendly  snowmobile community, with trails and areas always in great condition and snowmobile tours that offer awesome adventure packages.
Two organizations, the Golden Snowmobile Trail Society and Golden snowmobile club, are reasons for Golden having very safe snowmobiling. They are constantly working on  grooming trails so that riders would have a safe and enjoyable ride. Right now Golden has 240 km groomed trails, 4 maintained areas and 13 distinct zones.
Photo credits: http://www.ccso-ccom.ca/handsigs.html