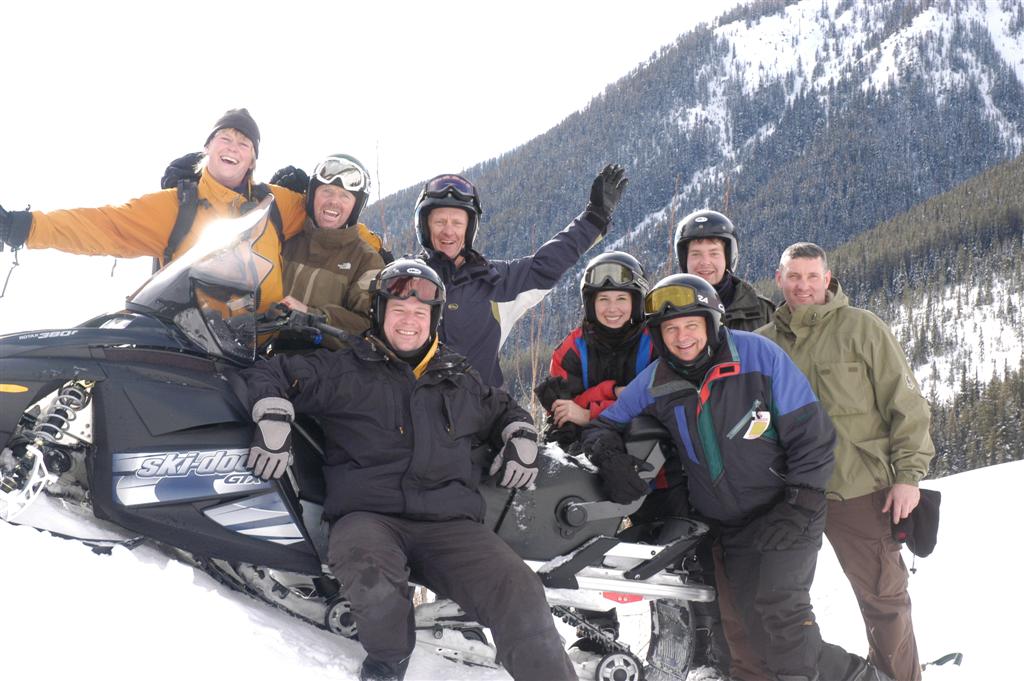 Snowmobiling is a fun time for the entire family
"Our fully-guided snowmobiling journey up the Hospital Creek Trail with White n' Wild Adventures turned out to be, well, golden." says Andrew Penner in his article in the Calgary Herald. Read the full story here.
A Must-Try Fun Adventure: Snowmobile Tours in Golden
Most of us are caught up in a busy life. When it comes to  your all-important family time, nothing creates lasting memories more than a fun day out snowmobiling in the mountains!
Share some laughs,  awesome scenery, and enjoy an amazing BBQ lunch complete with S'mores over the campfire!
Now that it's winter season and powdery snow is piling up not just on our front yards but on the beautiful mountains again, there are a lot of fun outdoor activities for the family. Take this one for example, snowmobiling!
Snowmobiling Is A Great Family Lifestyle
Making time for outdoor recreation shakes off the day-to-day stresses and relaxes our minds through each individual's interaction with nature and with each other. Your family can have a fun (and yes, perfectly safe) adventure this winter season by going snowmobiling together.
Join Golden BC's snowmobile tours with White N WildSnowmobile Tours, where you get to choose from a variety of adventure packages that will suit the fun your family's looking for and have the best winter fun experience your family will never forget. Every package comes with either snacks or BBQ lunch and with friendly and knowledgeable guides who will make your experience all the more enjoyable.
Talking about snowmobiling, nothing beats the experience you'll get in the Northern Rockies. The powdery snow, brilliant blue skies, majestic mountains, valleys  and creeks all add up to the amazing experience your family will get in a snowmobile tour. And anyone who knows snowmobiling knows that Golden BC is a must try place.
It boasts of some of the best terrain and great trail conditions in Western Canada. With plenty of choices of over 240 km groomed trails, 4 maintained areas and 13 distinct zones and winning Favourite Area for Family Snowmobiling in BC 2014 Silver Snoriders Rider's Choice Awards along with other awards such as Favourite Mountain Riding Area in BC (Platinum) and Favourite Scenic Snowmobiling (Gold), it should be your family's best choice.
Aside from that, Golden BC is also very accessible. Golden is located in TransCanada Highway 1 and Highway 95 and is only less than a 3-hour drive from Calgary International Airport. Now if your group  for our Full Day Tour is more than 15 and you are in  Calgary, you may take advantage of our complimentary shuttle service [NW Calgary Pick-up] It is also an easy 2 hour drive from Banff National Park.
Staying in Banff, Canmore, Lake Louise or Field?
Even though you may not necessarily be staying in Golden BC, we still got you covered. With our convenient shuttle service from Banff, Canmore, Lake Louise and Field, a wonderful fun experience of snowmobiling in Golden for your family is just fingertips away. For snowmobile shuttle schedules with pick up times, drop off times and locations of service, please visit http://www.whitenwild.ca/free-shuttle-service/.
For more details about Golden BC's snowmobile tour options please visit http://www.whitenwild.ca/snowmobiling/.
What Others Say…
On our snowmobile tours, you'll surely have an amazingly fun powdery time together with your family. Andrew Penner of the Calgary Herald wrote, "The adventure provided just the right amount of drama (swerving through the twisting creek beds was awesome!) and when it was all said and done, my kids decided it as one of the coolest things they had ever done." Check out his entire story at http://www.calgaryherald.com/sports/Snowmobiling+offers+surprisingly+time+entire+family+Golden/9619051/story.html.
With all of this said, it's time for you and your family to pack up your bags and head to Golden BC. Surely, snowmobiling in Golden will be a fun experience your family will never forget.